COVID-19 measures & guidelines from the Government of Canada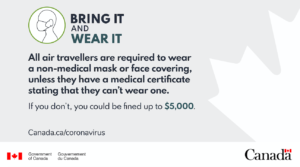 The Government of Canada has updated its measures and guidelines to protect air travellers from COVID-19.
Bring It & Wear It
All air travellers are required to wear a non-medical mask or face covering during their travel through Canadian airports and in-flight.
Contact Tracing
Working with airlines, the Government of Canada has updated its process for contact tracing. Passengers will be asked to provide their contact information, such as an email address or phone number, to facilitate contact tracing or exposure notification if necessary. More information on COVID-19 aviation measures is available on the Government of Canada's website. 
At the Airport
Kamloops Airport remains open to serve our region as an important piece of community infrastructure. We have implemented additional measures to keep our passengers and employees healthy and safe, including increased cleaning and sanitization throughout the terminal, installation of physical distancing signage and markers and deployment of additional hand sanitizer stations.
Please note that currently food and beverages are available for purchase in the gate area only.
Travel safely!